Icon Knife Block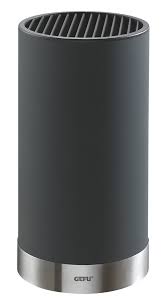 This elegant but practical knife block takes up very little space on the worktop, but its longitudinal slots provide plenty of room for very different kinds of knives.
Details:
Suitable for all types of knives
Knives are not included
Ø 11,0 cm, H 22,2 cm
plastic / high-grade stainless steel
The longitudinal slots on this knife block accommodate all sizes of knives– from the small peeling knife to the large chef's knife. With its clear utilisation-oriented shape, the knife block also makes a culinary design statement: Purism combined with practicality!