Opinel Gardeners Set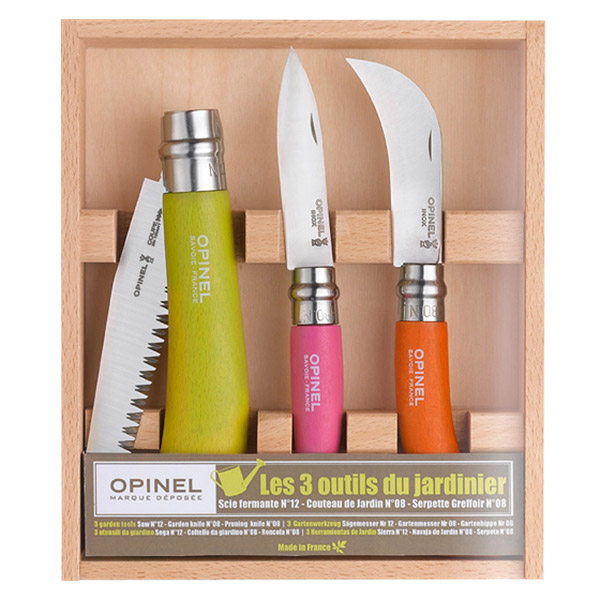 Gardener's Set Description:

Our new Gardener's Gift Set includes the Opinel No. 8 Garden Knife with a single Spear-Point Blade, the No. 8 Pruning Knife and No. 12 Folding 6" Garden Saw with Japanese type Diamond-cut Teeth (9 tpi).

All Gardening Tools feature Sandvik 12C27 Stainless Steel Blades, durable colourful French Beechwood Handles and Opinel's famous positive rotating Virobloc Ring Blade Lock System.

Packed in a wooden Gift Box.

The monster stainless-bladed no.12 Opinel Locking Saw with a blade length of 12 cm is large, perfect for cutting branches and foliage of up to 8/9 cm in diameter.

The stainless steel bladed no.8 Opinel Locking Pruning Knife is an ideally sized Pocket Knife, perfect for all purposes around the garden! Blade length is 8cm.

The no.8 Opinel Locking Gardening Knife is a pocket knife with an 8 cm blade which is perfect for all purposes around the garden!

All Garden Tools use Sandvik Stainless Steel which is renowned for its incomparable cutting qualities; it requires no special cleaning to maintain or clean it. The Stainless Steel is undergoing the heat treatment that gives it its good hardness. It has a carbon content of at least 0.40%, giving it a good cutting edge and an excellent resistance to corrosion.
 
The Blade on all tools lock using the Virobloc Safety Ring System, which in addition to locking the blade in the open position for safety of use, now enables locking of the blade in the closed position for safety during carrying.

Technical Specifications:
Blade Material: Sandvik 12C27 Stainless Steel

Blade Finish: Satin Finish

Locking System: Virobloc Safety Ring

Handle Material: Beechwood, various colours