Morakniv Companion HD Carb MG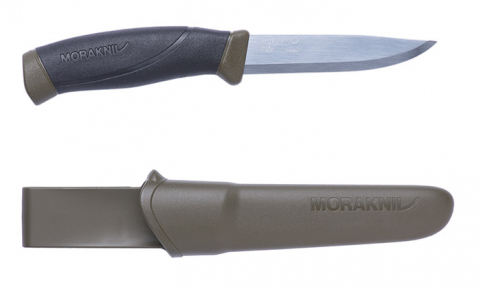 Morakniv - Since 1891. All Morakniv knives are made, in Mora, Sweden. A Morakniv knife is designed to stay extremely sharp. The steel is treated in a secret process that ensures every knife has a blend of qualities - sharpness, strength, flexibility etc - tailored to its purpose. 

Companion HeavyDuty MG (C)
From the Companion range but featuring a thicker, Carbon steel (C) blade. This gives the Companion HeavyDuty a higher load capacity and an easier edge to sharpen. A powerful and reliable knife in Military Green (MG) colour to blend in with your equipment. 
Ergonomic handle with a soft high-friction grip allows you to work with power and precision. 
The 3/4 stick tang provides a strong, stable, and powerful knife. 
The blade design has been a hallmark of Morakniv design. Heat-treated Carbon steel with a classic "Scandi" grind. 
Polymer sheath with belt loop 
Blade length: 104mm 
Blade thickness: 3.2mm 
Total length: 219mm 
Note: Carbon steel requires extra care in moist or corrosive environments. Blades will discolour with use.