Boker Core Carving Knife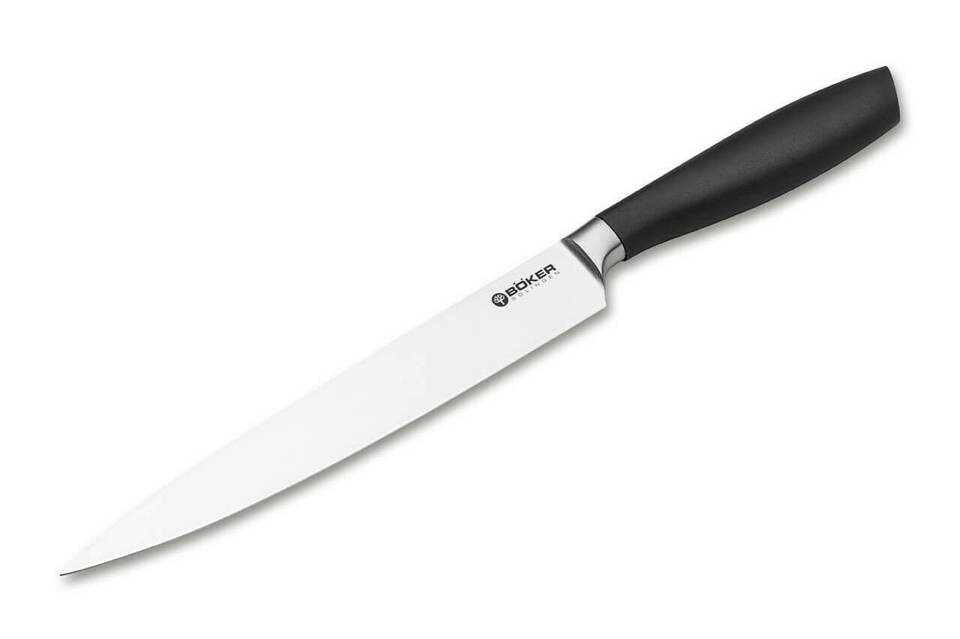 The Böker Core Professional Carving Knife. The large all-rounder with a slender tip, thanks to its long and slim shape, the Craving knife is ideally suited for the precise cutting of meat and fish. Extremely fine slices can be cut just as easily as cubes or uniformly strong tranches. The Carving Knife is slightly more flexible than other knives and slides optimally through the meat.

The forged bolster offers a secure grip at all times and protects against possible injuries if you slip off. As a special design feature, the back of the blade is gently rounded on all knives in this series. In this way, the knife lies comfortably in the hand in every gripping position and prevents an uncomfortable feeling of pressure in the hand even when there is greater pressure on the back of the blade in the rocking cut.

The practical and perfectly proportioned handles complete the harmonious overall picture. The knives are highly moisture-resistant and can also be used in professional catering without hesitation. Because especially in the kitchen, hygiene has to meet the highest standards at all times.

This Böker Core Professional series includes various kitchen knives, from Santoku to meat forks, everything is represented. With these beautiful and light knives, cutting becomes a real pleasure!
Brand:Boker Manufactory Solingen
Overall length: 35.00 cm
Blade length: 21.00 cm
Hand forged from X50CrMoV15 stainless steel
Molybdenum and chromium for hardness and corrosion resistance, vanadium for durability and wear resistance
58 Rockwell hardness for excellent edge retention
Full tang construction and rounded spines
Hand wash and dry
Made in Germany